Many people who use CNC routers as a hobby love to showcase their abilities to create art—specifically from wood. It is a versatile material that can fit in many decors, and it is easy to cut, but did you know that you can turn this hobby into a business? There are CNC router artwork ideas that sell—whether you just want a little side hustle or want it to grow into a living.
One of the wood CNC router artwork ideas that sell is making signs. It is a good start when creating wooden art with a CNC router. Even if you aren't an art master, you can still produce fairly well-made signs with a bit of practice. If this catches on for you, then you can move into more advanced designs.
We will be going over eight artwork ideas that you can make with your router that can potentially yield profits. Read on if you'd like to learn more!
Can You Profit Off of Wood Artwork?
Going into business of any kind is risky and it will require a lot of work and dedication to make a profit. No one can guarantee that you will make a profit from woodworking, but this article only aims to provide you with some ideas to achieve that goal.
Wood is a material that is very flexible in how it can be used. We all know how routers can be used to make furniture, doors, dressers, etc., but you can make artwork as well. This can be anything from simple engravings to complex sculptures, which means almost any skill level can jump in and experiment with the hobby.
You don't even need to buy a huge expensive CNC router; you can find many small hobbyist machines for around $250, such as this Genmitsu CNC 3018-PRO that will be great for getting your foot in the door.  However, don't expect these small CNC routers to deliver in a high volume setting.
What about selling said artwork? It's a different topic in and of itself regarding starting a small business, but well-made wooden artwork does indeed sell. Many folks value wood as part of their home decor, and the demand can range from simple pieces to extravagant creations.
We broke down eight ideas you can consider for your next project. Some of these will be more difficult to get into than others, but we wanted to show what you can do with CNC routing in regard to wooden artwork.
There are many things you can do with wood and a CNC router to create great pieces, but we wanted to narrow down eight ideas to help you get started on making your dreams come true! Most of these will be things that a beginner can get into but master later on.
Personalized 3D Carved Signs
Making signs is one of the best ways to get your foot in the door in making wooden artwork. The possibilities are endless, and you can find clean and simple signs to ones that are quite advanced.
Personalized signs are a good place to start if you are looking to turn a profit with your CNC router because they can be used for practical purposes or simply decoration. You can tell an important message, welcome guests, or just have something that looks good.
There are quite a few homeowners and small businesses who would appreciate custom-made signs made specifically for them. If you have a good handle on CNC routing and woodworking and are talented with drawings, you can fulfill customer requests on how they want their signs to look.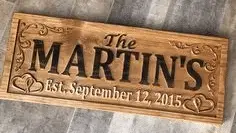 Like we said above, don't be afraid to stray from the norm if it's something you want to do and believe there will be interest. Do you want to go for an old school vibe, a classy vibe, or a more modern design that would complement a modern home? The sky's the limit with sign making, and just because it is wood, it doesn't mean there is only one style or color choice you can pick.
Modern Wall Art
Modern art is growing increasingly in popularity for how clean it looks when paired with the right decor. In this case, the designs can be relatively simple and generally are something a bit easier for someone new to art, in general, to dive into. You can also choose to go for a flat look or have some wood material stick out to make for a 3D look.
Some examples of this style of wooden art include flat mountain landscapes in the vein of Google's material design style or unique patterns that would look sleek in a modern home.  
You can get creative with the coloring too. Bright colors that you do not often see in wood art are frequently used here, which sets it apart from other styles. As we mentioned above, you might catch the interest of people who would not otherwise think of wood decorations in modern decor. This is a great example of choosing your niche.
Animal Sculpture
This is an area where you can catch some attention and create demand if you get skilled at it.
Sculptures are something many people can get behind; they can be of any size, come in various styles, and be of whatever you want. In this case, we are using animals as an example.
If you have Googled "wood animal sculptures," you'll see a lot of realistic designs that are breathtaking but don't think that's the only style you can do. Cartoony animals are also welcome, and you can even get creative with the colors.
You can also do mythical creatures such as dragons if you wish. Many people would love to have well-made sculptures of their favorite fantasy beings, so if that is your passion, you can go for it.
Architectural Elements
Abstract Art
The idea of abstract art is that it can portray something in a unique way, such as an object, or it can be something new entirely based on how you feel or what you like. There is a lot of freedom to be had when creating abstract pieces, and it is in all types of art from painting, drawing, digital art, and wood art.
What's unique about abstract wood art is that it doesn't just have to be flat imagery. You can create 3D objects that people can hold or place on a table—otherwise known as abstract wooden sculptures. These can look nice in various decors depending on the style you are going for. Popular designs include flames, violins, animals, and people.
Functional Art
There are also opportunities in architecture to supply functional artwork that is relatively easy to assemble.  These corbels, for example, are common in many economic housing projects and give the house a special upgraded look.
Personalized Appliances and Tools
The things we use every day can be turned into art. For example, something as simple as a chair can have a variety of styles, colors, and engravings.
An idea you can consider is to make custom-made tools and appliances for people. Some folks value having something that only they have and nobody else, and if you are good at creating these things via CNC routing, this might be something you want to investigate.
Here is an example scenario on how this can be implemented:
Let's say you are offering to make toolboxes: people can request what engravings they want, including designs and letters. The same can apply to chairs, cutting boards, shelves, etc. You could even make cooking utensils and cookware
If you can create high-quality items, your creations can fetch a pretty penny. This is the business strategy Rolls Royce uses. Part of the reason they can charge so much for their cars is that they are custom-built for each owner.
You can end up doing the same with your router creations if you manage to build up a reputation for making great custom-build products. This might be more difficult to do than some of the other things on this list, but it's something that can potentially earn you serious money if you know what you are doing.
3D Scenes
Mantels
3D wall art is another thing where if you get good at it, you will likely attract some people. It's almost like a blend of sculptures and flat wall artwork, and looking at a good piece is fascinating, giving the feeling of depth that flat art can't quite replicate.
However, did you know you can combine 3D art with mantels? A mantel is a hood that sits above a fireplace and is designed to catch smoke, and they have become decorative pieces in households worldwide.
A beautiful mantel can make a living room shine. People who have fireplaces and are heavily into home decor will appreciate a mantel that compliments their living room, which can create a nice business opportunity for you.
2D Silhouettes
Ornaments
Ornaments are used throughout the year to celebrate holidays, birthdays, or just as general decoration. What is great about creating these types of ornaments with CNC routing is the fact that they can be small, meaning that you can use a beginner router to start creating ornaments that you can potentially sell.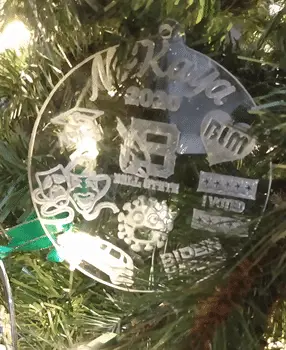 If you'd like to go bigger, consider lawn ornaments. There is a lot you can do when it comes to these because an ornament can be pretty much anything you want:
Sculptures
Flat art pieces
Windmills
Bird feeders
These all can fall under lawn ornaments, which can either be holiday-themed or not. If you want to do holiday-themed creations, one Christmas, you can decide to do a unique design, and the next Christmas, you do something different. This tactic creates an incentive to buy your art if they are of good quality, and you have gained an audience.
3D Wall-Hung Artwork
If you want to add some depth to your artwork, you can consider doing 3D wall-hung artwork. You can get very creative doing these since you can play with various levels of depth, and the possibilities are endless when it comes to creating whatever you want. You can make art resembling a certain material, create abstract pieces, design slick patterns, or create a piece based on scenery or objects.
Quality pieces can fetch a decent price, and you don't have to be amazing at drawing either. You just need to have a good sense of what might look good in certain homes and/or understand who you want to sell to. One of the most important aspects of artwork, if you are planning to profit off of it, is understanding your audience and making something that you would appreciate yourself.
What Type of CNC Router Do You Need?
If you are brand new to the hobby, it can be tough to know where to start. Routers vary drastically in both pricing and capabilities. We gave an example of a basic machine that is relatively cheap and is good for learning how to use these types of equipment effectively, but that is very basic compared to even a mid-tier or enthusiast-level hobbyist router.
However, you can still make artwork using a $500 learning router, and we recommend that you start here to learn how to manipulate the machine to do what you want. CNC routers can get very expensive, very quickly, and once you go past the introductory stage, it is best to have a good understanding of how it all works since they can get more complex.  Check out my article on the differences between using a handheld router and a specialized CNC spindle here.
You will be able to cut small pieces of wood and engrave what your creativity desires with a small, cheap machine, but if you would like to do bigger projects, you will need something more substantial.
A good starting point in this case would be the Shapeoko 3. We like it because it is newbie-friendly but capable of creating elaborate artwork and even furniture. If you need more capability, you can buy expansion packages in the future, making it a good investment overall if you want to grow into CNC woodworking.
With all these suggestions, I am only talking about the mechanical part of your setup.  There are some software and electrical parts that will also need to be purchased.  At first, you can get by with some free software such as Openbuilds Control and Openbuilds GCODE Generator or Carbide Create from Carbide3D – the people who offers the Shapeoko series.
For CAD, I like Onshape or plan old Sketchup Free.  But this is way too much detail for the topic of this article.  I will follow up with another article on what I use and other stuff I recommend.
If you are mechanical minded and have a need to understand the workings of your CNC router, I suggest one of the many DIY kits that are available.  One of my favorite online sites to look at kits is Openbuilds.com.  In Europe, their counterpart is Ooznest.co.uk.  And you are covered even China and Australia with Bulkman3d and cnc3d respectively.  
I have just ordered a Queenbee CNC from Bulkman (represented in the US through Ebay) and I cannot wait to start building it.  One thing to note is these kits are not plug and play.  You will have the opportunity to configure them to your needs, so it is better to make these kits a second CNC so you know what your needs are.
Now, if you are going full production mode with your CNC business, and if you are already experienced with CNC woodworking, you will need a serious machine to create sophisticated appliances and professional sculptures quickly, check out Legacy Woodworking Machinery's line of CNC systems. Here is a video demonstrating what the machines are capable of:
Tips for Successfully Selling Wood Artwork
There are some key things you should know that will immensely help when starting woodworking for a profit. Before we get into some ideas you can consider, we wanted to give you some tips on how to go about this journey.
Find Your Niche
This is the first step when deciding on what you want to do. Who do you want to make art for? Art is for everyone, and thus there are many possibilities and different use cases for it. Someone might just want some clean designs hanging on their wall while another person can be into animal sculptures.
It's important not to spread yourself too thin. Focusing on a specific audience and theme will benefit you in the long run since you can fully cater to those people and truly understand what they are looking for. 
Do Your Research
Once you have picked a niche, now it's time for some research. This can merely be seeing what other people are doing and how you can do it yourself. This also helps in getting inspiration for designs of your own.
Also, don't forget, there are great guides and tips for whatever you have in mind. If you want to do it, others have and want to share with others how to make quality creations successfully.
Find Out Where You Can Sell Your Art
There are various websites where you can sell your art, such as Etsy, eBay, and Craigslist. You can also make your website with your shop, but it can be beneficial to start selling where you can at first so you can gauge feedback before going all-in on doing that.
While deciding where you want to sell your product, now is a good time to gauge appropriate pricing. A good rule of thumb is not trying to beat the competition in price; instead, show that you are worthy of playing alongside them. Of course, you should price accordingly based on how complex your art is and the quality overall, but pricing too cheap actually can make custom artwork less desirable.
Be Different
Once you know what you want to do, it is important to remember that standing out is key, especially as a newcomer. You can still do the same general idea, for example, if you'd like to create landscape art, but try to do something that you'd like to see that maybe hasn't been done yet and ask yourself if other people might like it as well.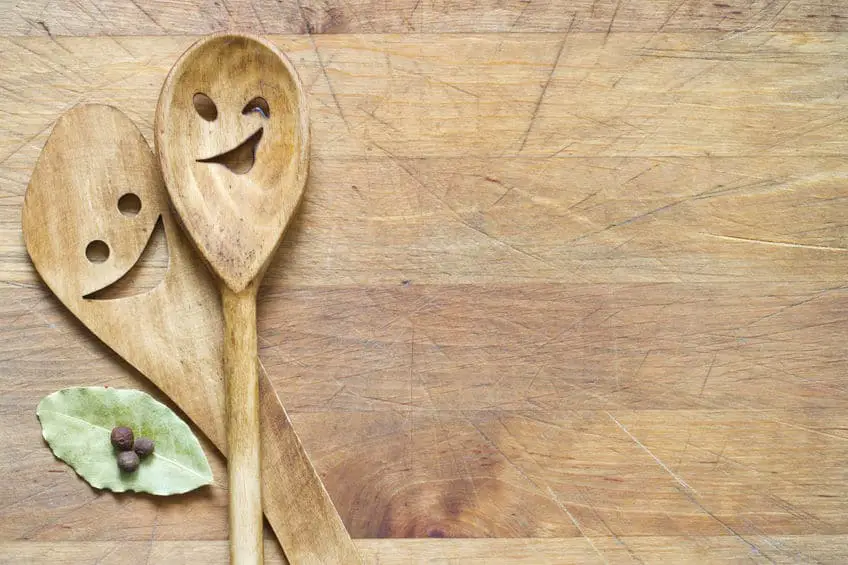 Be Patient
You likely won't earn a killing overnight, even if your artwork is amazing. Exposure is very important for any artist, whether they are a woodworker or a painter. It is very much a journey to start with the desire to profit from your artwork consistently.
Having a website/blog helps convey what you are doing, who your art is for, and why your pieces are worth considering (good build quality, custom made for each individual, unique art, etc.).
Warning Regarding Copyrighted Art
Creating art based on copyrighted material isn't illegal in itself; millions of people do it every day without the expectation of money, but it becomes a different story once you start a business of creating and selling said art. You can do many CNC woodworking pieces, including creating sculptures of your favorite characters, but note that this is not legal to do without permission from the copyright holder.
Conclusion
You can do many things with CNC woodworking to create art that will appeal to a certain crowd of people. What works best for you will depend on your skill level and what you want to do the most. If you are serious about starting a business selling your art, you will need to find your niche, understand what your audience might want, and create unique art that you would want to have yourself.
Sources